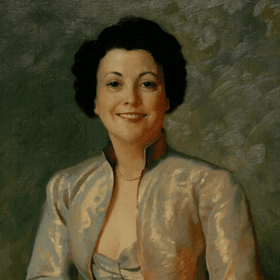 The Ethel S. Abbott Charitable Foundation is a private philanthropic foundation established in 1972 by the founder, Ethel S. Abbott. Mrs. Abbott was born in Winona, Minnesota on July 17, 1895. Her parents, Henry and Isabelle Schmitz, moved to Lincoln within a few years and resided in the area of 15th & Plum Streets. Mrs. Abbott lived in Lincoln for 35 years and maintained a Lincoln residence for her mother for another 19 years. In her youth, she worked at Miller and Paine during non-school hours.

On the 10th day of February 1924, she married Raymond H. Page who also resided in Lincoln. Together, they operated the Lincoln Aircraft Company which trained student pilots and built the Lincoln Page Airplane. They taught Charles Lindbergh to fly, and she kept in contact with both Charles and Anne Lindbergh through the years. On file at the Nebraska Historical Society is a telegram sent to her by Lindbergh after he landed in Paris in 1927.

In Lindbergh's book, The Spirit of St. Louis, he wrote, "When I was a Sophomore at the University of Wisconsin, I decided to give up my course in mechanical engineering and learn to fly. I chose a school in Nebraska and enrolled for a course in the spring. I'd never been near enough to a plane to touch it before entering the doors of the Nebraska Aircraft Corporation factory. Ray Page, The Corporation's President, took my check for tuition and welcomed me to his school. On April, 1922, at the age of twenty, I made my first flight."

Ray Page died of cancer in 1932, and on August 26, 1933, Ethel Page married Christopher J. Abbott, a rancher and banker from Hyannis, Nebraska, who had lost his wife, also to cancer. Chris Abbott was an aviation buff and had become acquainted with the Pages through the aviation school.

Chris and Ethel Abbott made their home in Hyannis, Nebraska. They traveled extensively and formed many friendships with prominent people throughout the United States. They operated seven ranches, and he was president of ten banks, nine in Nebraska, and one in South Dakota. In 1946, he branched into eastern Nebraska and western Iowa, operating Prairie Airways in Lincoln, Rocket Air Service in Omaha and Radio Station KFNF in Shenandoah, Iowa. Chris Abbott was considered to be the wealthiest man in Nebraska at that time.

In January 1954, Chris Abbott departed on a hunting trip with 17 other well-to-do businessmen. Traveling in two planes, they were approaching the Shreveport, Louisiana airport in a snowstorm on January 10th when the plane carrying 12 of the hunters, including Mr. Abbott and Mr. Braniff of Braniff Airways, went down. All twelve were killed instantly.

When the Estate was finally closed in 1970, Ethel asked Del Lienemann, Sr., who was handling their accounting for the operations in Lincoln, Omaha and Shenandoah, Iowa since 1947, to take care of her personal affairs as well. In 1972, The Ethel S. Abbott Charitable Foundation was established so that her generosity could be perpetuated. During her lifetime, she gave away several million dollars primarily to organizations related to medical research, always requesting no publicity for the gifts as she was a very private person.

Following her death on May 22, 1992, the assets of The Ethel S. Abbott Charitable Foundation increased considerably because a substantial portion of her estate was left to the Foundation. In addition, the Foundation was now able to acknowledge the generosity which Mrs. Ethel S. Abbott had shown to her community by publicizing the contributions and grants made on her behalf by the Foundation.

Del Lienemann, Sr., then President of the Foundation, made the following statement to the Foundation board at the first meeting following the death of Mrs. Ethel S. Abbott. "It is a privilege for us to sit on the Foundation's board of trustees because we have the opportunity as well as the responsibility to perpetuate the generosity that Mrs. Abbott demonstrated through her 97 years of life. Her foresight and well established goals have set the pattern that will guide us in the coming years. We thank God for Mrs. Abbott's business ability, her wise investment policies, her compassion for her fellow man and her strong support of educational and cultural endeavors. Our prayer is that in her honor we will successfully administer the Foundation in the same spirit that inspired Mrs. Abbott to establish it."